Port Colborne Leader
June 19, 2014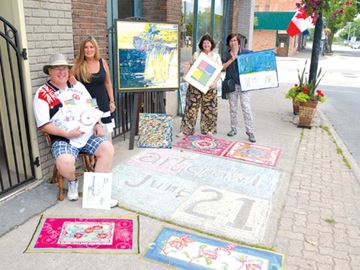 Art crawl invades downtown
Scott Rosts/Staff Photo
From left, Port Colborne Art Crawl committee members Chris Summerhayes, Elizabeth 'Putzy' Madronich, Gail Todd and visitor to Port Colborne from Germany, Martina David, hold up some of the many pieces of artwork that will be showcased during the event on Saturday night in downtown Port Colborne.
PORT COLBORNE — Whether you're someone who appreciates the arts, or you just want to see your city councillors doing the Macarena, head downtown on Saturday night.
The fourth Port Colborne Art Crawl returns June 21, with a hub of creativity filling the city's core, from 5-11 p.m. Musicians, visual artists and more will be showcasing their efforts during the event, which will invade sidewalks, store windows and West Street for the evening.
"It's a great event that becomes a win-win for the artists and the business community," said Jeff Ballin, downtown marketing director with the Downtown Business Improvement Area. "We get live entertainment, hands-on activities, working artists and it's a great opportunity to celebrate our community's creativity."
More than 80 artists will be participating in the event, which for the first time will include the closure of a portion of West Street from Clarence to Kent. The festival continues to grow each year, he said, highlighting numerous local artists, but also some from beyond the Port Colborne area.
In addition to some of the live artists who will be set up in the core, showing of their craft and their technique as they paint live, there will be a wide variety of entertainment. Canalside will have original singer/songwriters performing throughout the night, while other attractions include Cory Cruise and Emily Madronich at Hola Amigos Cantina, local women's chorus Sing Niagara, Jared McIntyre, The Music Depot and much more.
Elizabeth 'Putzy' Madronich, Art Crawl co-chair, is inviting the community to also come out and do the Macarena alongside city councillors. They will be dancing in the street, in front  of Something Else, at 9 p.m.
"We want everyone to come down and join them and have some fun and enjoy some laughs," said Madronich.
Some of the highlights and hands-on activities from the visual arts perspective include a chalk wall mural at Bargain Shop that anyone can participate in, a graffiti artist who will be creating a mural on the wall at Allinson's Department Store, and much more.
Event co-chair Gail Todd said many businesses will stay open for the evening event, allowing visitors to enjoy the variety of goods and services available downtown. Those who are closed will still have art in their windows to show their support.
"We really want everyone to rediscover downtown and to explore what it has to offer," said Todd. "We're right on the canal, there's no other place in Niagara like this where you can enjoy this experience."