Niagara's Next Star Winner Announced
Posted by CoryCruise on August 29, 2012 | No comments
http://www.seawaymall.com/cms/files/pressreleases-2012-09-05-NNS_Winners_Release.pdf
 Welland, ON (August 29, 2012)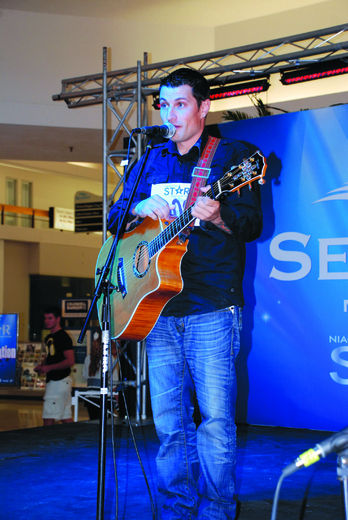 Welland, ON (August 29, 2012) – Seaway Mall's talent competition wrapped up on Saturday with 17 finalists taking the Welland Tribune Main Stage with the hopes to take the title of Niagara's Next Star.
This year's winner is 33 year old, singer/guitar player Corey Cruise. As the first place winner Corey will open for Tara Oram's performance at IlluminAqua on August 31
st and do a live performance at the Food Festival Main Stage. Corey also wins a photo shoot with Bryan Caporicci Photography, four tickets to IlluminAqua August 31 show, a $500 gift card to Seaway Mall, $50 gift card to Ye Olde Squire and select prizes from Coca Cola.
There were 17 finalists from the over 150 auditions that were selected to move forward to the finals that Z101's Corey Mottley hosted. A roster of celebrity judges including Nicole Holness, Mark Lalama and Rob James selected the top 3 winners of this year's competition.
Event sponsors include Z101FM, the Welland Tribune, IlluminAqua, Coca Cola, Old Dutch and Ye Olde Squire. For full rules and regulations visit Seaway Mall customer service or www.seawaymall.com
Got something to say?