Niagara artists own the night
Posted by CoryCruise on September 19, 2013 | No comments
Singer Cory Cruise performs at Batter Up on Main St. during the second annual Niagara Falls Night of Art, held Tuesday. PHOTO: John Law / The Review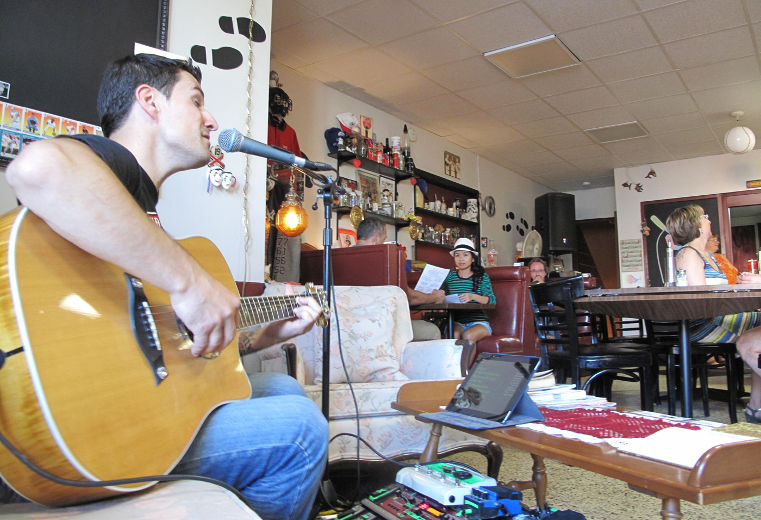 Oliver Robles usually has to look over his shoulder for the police when doing his art.
But on Tuesday, the 'aerosol artist' and some friends had free rein for the second annual Niagara Falls Night of Art. Working in a spacious lot between buildings on Main St., he put his spray paint to work without the fear of getting busted.
As he says, one person's graffiti is another person's art.
"There are some things I'd consider vandalism," said the New York-born artist, "but what we're all doing here, this is art. I'm trying to beautify the city."
Starting at 5 p.m. (it was more like the Dusk of Art for a couple hours), the event gathered more than 30 artists and musicians in the Main and Ferry district.
Highlights included Katie Webb's synchronized Lamp-Light Sonata at the entrance of the Niagara Falls History Museum, and performances by recent Niagara Music Award winners Thunderclap and Paige Kopp.
Artists set up displays at the Niagara Falls Farmer's Markets, while musicians performed both inside and outside the museum.
Robles said his artwork helps him "release stress," and the city could use more days (and nights) devoted to culture.
"We need this more often. This is the first one I've ever been to like this," he said. "I like being able to do it in the public eye and having people come over and talk to me about it."
Along Main St., both the Regal Diner and Batter Up! Fish & Chips stayed open later than usual to get in on the event.
"We're usually only open for breakfast and lunch, so this is nice," said regal Diner co-owner Anj Peebles, who hosted an acoustic performance by Niagara band The Anti-Q's.
At Batter Up, Cory Cruise – winner of the People's Choice award at Tuesday's Niagara Music Awards – settled in for a six-hour night.
Restaurant owners Clarke and Lisa Dawn Bitter agreed music and culture will open more doors in the Main and Ferry St. district. They'll soon be releasing a compilation CD of the acoustic singers who've played the two-year-old restaurant. Proceeds will go to support future Nights of Art.
"We think it's a good idea, and we want to show it's important to the city," he said. "Manufacturing disappeared, and a lot of those guys put down welding irons and picked up guitars and paint brushes.
"We don't need to advertise gambling. Vegas never advertises gambling. It advertises food and entertainment. Maybe we have to look at switching to that way of thinking."
Got something to say?