Niagara artist gives back to the community through music
Posted by CoryCruise on January 3, 2011 | No comments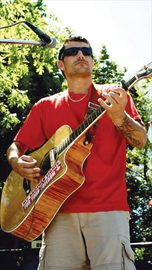 Photo by KEVEN ELLIS
http://www.niagarathisweek.com/whatson-story/3313148-niagara-artist-gives-back-to-the-community-through-music/
Niagara This Week – St. Catharines – Jan. 03, 2011
                            For Niagara musician Cory Cruise, performing doesn't just provide him with the opportunity to have his music heard, it offers him the chance to give back to the community he loves.                                                                                                     
                            The St. Catharines native stumbled upon his music career almost by chance. After finding an old guitar in his parent's attic, he decided to give it a try and began playing along to songs he heard on the radio – even though the guitar only had one string. Eventually, he taught himself not only how to string the guitar but how to play it, and several other instruments, along the way carving out a musical style all his own.                        
                            Over the last three years, the musician really buckled down and began playing regular gigs around the area – most of the time to benefit a local organization, usually the Niagara Peninsula Children's Centre (NPCC).                        
                            He's also played several shows in support of the troops, something that's close to his heart. Cruise's brother Jesse is a soldier and lost his best friend, Port Colborne-native Tyler Crooks, in Afghanistan. Cruise used the feeling of loss as inspiration for a song, In Loving Memory.                        
"All of my songs come from my personal experiences," he said. "There's a lot of heartbreak in them."                        
Like Faster and Further which explores the feelings one might experience at an airport, watching the person they love leaving them behind.                        
"It's really heartwrenching, but so is life sometimes," he said. "Everyone can relate to stories of heartbreak."                        
Cruise recently quit his job to pursue music full time and is working on completing his first album which will be released later this year. The self-taught artist will be playing all of his own instruments on the album.                        
                            Fans wanting to hear songs off the album won't have to wait until its released, they'll be able to get a taste at an upcoming show on Jan. 16 at Dom's Pasta & Grill. Cruise will be playing at the restaurant, located at 22 Academy St. in St. Catharines, from 7 to 9 p.m. Tickets will be $10 at the door and includes a buffet dinner. A portion of the proceeds from the event will be going to the NPCC.                        
"Everything I do benefits the community in some way," said Cruise. "I love helping out as much as I can."                        
For more information on Cruise and his music, search for the Cory Cruise fan page on Facebook.
Got something to say?