In search of Niagara's Next Star
Posted by CoryCruise on January 23, 2014 | No comments
http://www.niagarathisweek.com/whatson-story/4331105-in-search-of-niagara-s-next-star/
Niagara This Week – Welland
By Steve Henschel
Jan. 23, 2014
STEVE HENSCHEL/STAFF PHOTO
Cory Cruise, winner of the last Niagara's Next Star talent competition, will return to the show this year, this time as a judge for the Seaway Mall event. Registration opened this week for Niagara musicians and both mall special events coordinator Alicia Esposito and president Mike Belcastro (right) are expecting some top-notch talent.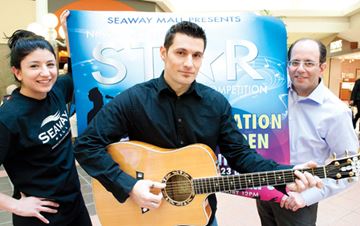 WELLAND — Somewhere, out there, is Niagara's next star.
The Seaway Mall is again ramping up for its Niagara's Next Star talent competition this year focusing solely on the region's musical talent. Registration opened this week for the competition. This will be the third time the mall hosts the competition that last summer was delayed to a winter date as the opening of Target and Canoe Niagara 2013 pre-empted the show. The delay comes with a benefit however according to mall social networking and special event coordinator Alicia Esposito as the winter date will allow post-secondary students who call Niagara home during the school season to get involved.
"There's a lot of interest in music in the region, and we want to showcase our local talent," said Esposito.
Upwards of 150 individuals auditioned last time around, and this time the mall is hoping just as many will turn out across three audition dates on Feb. 22, 23 and March 1. This time, however, only bands, musicians and singers can enter.
"There's no real outlet for people in Niagara to express their musical talent," said mall president Mike Belcastro, who noted the show is a chance for musicians to not only play to a crowd but build their confidence.
Last year's winner, singer/songwriter Cory Cruise, is now fully pursuing a career as a musician, even though, when he entered he didn't even expect to win.
"It really launched my confidence," said Cruise, who this time around will open the auditions with a performance before sitting as a judge.
"It will be weird seeing it from another angle," he said, noting if last year is any indication it will be tough to judge.
"It's amazing to see the talent that's out there, it is actually quite shocking," said Cruise.
While prizes are still being firmed up, first place will include a $500 mall gift card, after party at Ye Old Squires, a Ye Old Squires gift card, Coca-Cola swag, a photo shoot with Bryan Caporicci, musical coaching from Mark Llama and the chance to open for an Illuminaqua performance.
The full list of celebrity judges has yet to be announced and finals will take place on March 8. Auditions and finals begin at noon in the mall's centre court.
Registration is free, but space is limited. To register, visit the Seaway Mall customer service desk.
Got something to say?