Cory Cruise wins Niagara's Next Star competition
Posted by CoryCruise on August 27, 2012 | No comments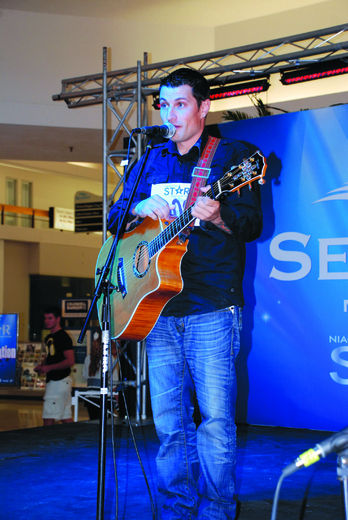 WELLAND –
  By Victoria Gray, The Tribune
Cory Cruise crushed the competition and won the title of Niagara's Next Star.
"I feel amazing, I can't even believe this right now," the 33-year-old Welland resident said just after leaving the stage. "I thought the judges were just being nice (after I performed) and I always thought my family and friends were just being polite when they told me I sounded good."
Cruise was one of 17 finalists to perform at the Seaway Mall competition Saturday and sung Neil Young's Cow Girl in the Sand.
The first-place winner received a $500 gift card to the mall, a $50 gift certificate to Ye Olde Squire, a Coca-Cola bag filled with swag, a professional photo shoot, air time on Z101.1 radio and live performances at IlluminAqua and the Niagara Food Festival.
Emma Beaule won second prize of a $200 Seaway Mall gift certificate, a $50 gift certificate for Ye Olde Squire, a Coca-Cola bag and movie passes.
Riley Fyfe placed third and won $100 gift certificate to the mall, $25 gift certificate to Ye Olde Squire and a Coca-Cola bag.
Celebrity judges Nicole Holness, co-host of MTV Live, local music composer Mark Lalama and Rob James. a songwriter/producer, said they chose Cruise because they thought he was the contestant who was most ready to preform in front of 50,000 people and have enough stage presence to connect with them.
"When you come here. you expect guys to jam it up and he did the opposite and it worked," Lalama said. "It was natural and he had confidence."
"He wasn't just connecting, he was preforming. I wasn't just looking for people who could sing, I was looking for people who could preform and live the song."
Cruise has always has a passion for music and said he spends hours playing his guitar, but only considered music as a career path after he lost his job at Lakeside Steel two years ago. Now he's just looking for the right person or agency to take him to the top.
"I'm not really sure where this will take me, but I love Welland and I'm really excited to perform at IlluminAqua," he said.
He said when he takes to the floating stage he will likely sing an original song called Yellow Room.
To listen to Yellow Room visit http://www.youtube.com/watch?v=umqRcWEoQ4Y and for information about Cruise visit www.corycruise.ca.
Got something to say?