Take 5 with Cory Cruise
Posted by CoryCruise on October 31, 2013 | No comments
http://www.niagarathisweek.com/whatson-story/4186637-take-5-with-cory-cruise/
Niagara This Week – St. Catharines By Melinda Cheevers Oct 31, 2013
This year has been a big one in the life of St. Catharines-based singer-songwriter Cory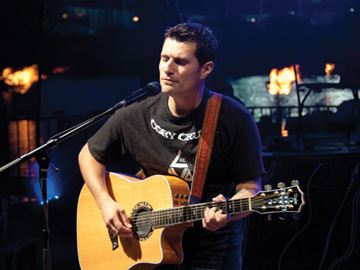 Cruise.
It all started in 2012 when he took home the title of Niagara's Next Star at the Welland competition. Singled out for his stage presence by celebrity judges Nicole Holness, co-host of MTV Live, music composer Mark Lalama and Toronto-based songwriter and producer Rob James, the win catapulted Cruise into Niagara's music scene. In 2013, he has continued the winning streak, picking up the Festival's Got Talent competition held at this summer's Friendship Festival in Fort Erie.
While he was nominated in two categories for the 2013 Niagara Music Awards, adult contemporary and best bar band, he ended up coming home with the people's choice award.
Despite his recent string of recognition, Cruise is no overnight success. He first picked up the guitar at the age of 11 after finding his late father's instrument hidden away in an attic. As he grew, so did his talent, and four years ago he began playing his original music at venues across the region.
Entertainment Niagara (EN): How long have you been playing in the region?
Cory Cruise (CC): I've been playing my original music at select venues in the Niagara region for about four years now.
EN: Describe your sound:
CC: One of my favourite quotes I've heard my style and sound described to me, was that it's "acoustically delicious". I thought that really describes my shows well.
EN: What is your go-to song to get the crowd moving?
CC: My go-to original song I love having the audience moving and clapping along to is "3 a.m."
EN: What is your most memorable on-stage moment?
CC: I have so many special moments on the stage but one that stands out for me was this year playing Illuminaqua in front of over 1,000 people and having the chance to thank and dedicate a song to my mom. I think support from family and friends means everything.
EN: What is your favorite part about Niagara's music scene?
CC: My favourite part about the Niagara Music Scene is how talented and eclectic the music really is here. It's amazing how most of the musicians in Niagara support other local musicians and how there's great venues here that are all about promoting the local music and art.
Have a band/artist you want to see featured? Email  us at hotspot@niagarathisweek.com.
Got something to say?