Music fans like moths to a flame
Posted by CoryCruise on August 28, 2012 | No comments
By Maryanne Firth, The Tribune 
WELLAND – The IlluminAqua concert series will end its season on a high note Friday.
"We're excited for the last show," says Welland Recreational Canal Corp. executive director Stephen Fischer, who gives high praise for headliner and Juno-nominated singer Tara Oram, who will close the season with her country music.
The show's opening acts are also sure to wow the crowd, says Fischer, expecting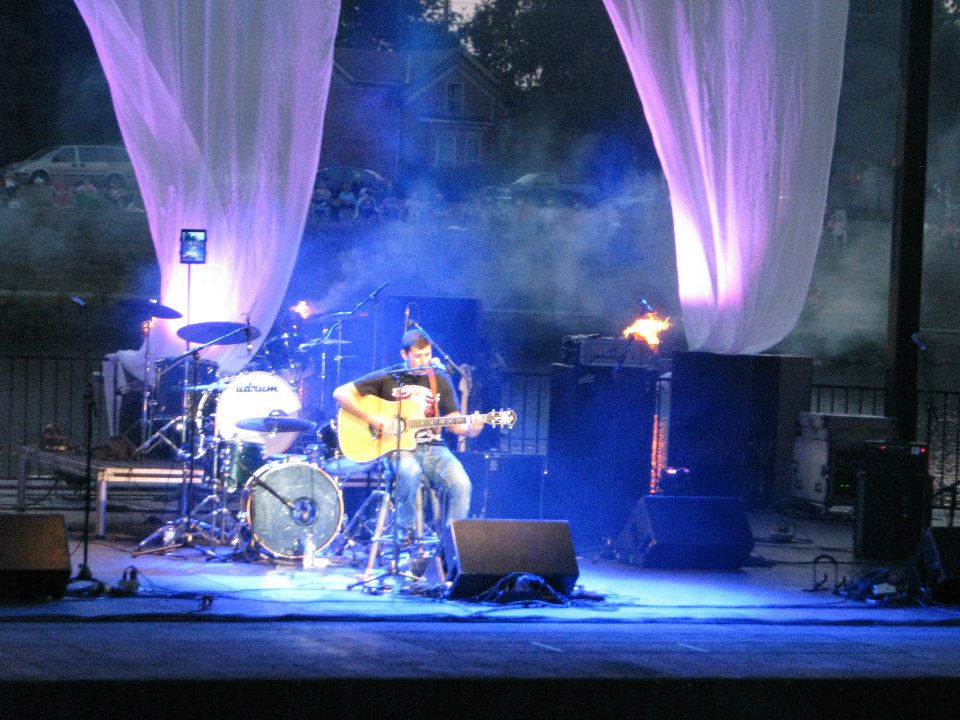 performances by Cory Cruise, the recently-crowned winner of Seaway Mall's Niagara's Next Star talent competition, and Niagara Music Awards album of the year winner Serena Pryne & the Mandevilles to rock the floating stage.
Ticket sales are going well, Fischer says, adding tickets are still available.
He reminds people that Welland's burning ban has been lifted, meaning fire pods will be lit Friday night.
The ban, which lasted for about a month due to the summer's dry weather conditions, caused some challenges for the concert series. The last show, featuring tenor Michael Ciufo, went on without a single flame.
"We got more comments about it than I thought we would," Fischer says, referencing negative feedback received from crowd members hoping to see the pods alive with fire.
Many said the event was "not the same" without the burning element, he says, though there was little the WRCC could do with the fire chief-ordered ban in place.
"Hopefully it hasn't impacted (Friday's) sales," Fischer says.
When it comes to ticket sales throughout the season, there has been an "ebb and flow with different genres," Fischer says.
Some shows sold exceptionally well, including the season opener and only sold-out performance featuring the Jim Cuddy Band.
The Series Supporter Package, which offered customers season tickets among other perks, was "well-received," he adds.
Fischer believes the concert series is doing well for itself, and judging by the positive comments often received from patrons, is garnering a quality reputation in Niagara and beyond.
True success for the concert series, however, will come by "getting IlluminAqua in the black" without need to fund the series with revenue from other WRCC events, he says. It's an achievement Fischer is confident will come with time.
To help further promote what the Rose City has to offer, the WRCC is open to potential partnerships with downtown businesses to encourage visitors to continue exploring the downtown core. The big challenge is that IlluminAqua shows take place after many establishments are closed.
"We try to stay out of food vending, other than treats," he says, hoping to encourage visitors to explore other downtown options. Even treats offered at the concerts are served up by King St.'s Cool Licks Ice Cream Parlour.
Dolores Fabiano, executive director of Welland-Pelham Chamber of Commerce, says it would be beneficial to both IlluminAqua and downtown businesses if some sort of special offer could be issued to concertgoers to encourage them to visit local eateries.
"We have to find a balance beyond the event and I don't know that we have it right just yet," she says, but while adding it could be in the woodwork for the future.
The WRCC, Fabiano says, has expressed it's open to input and willing to work with downtown business owners to help bring that balance into existence.
WRCC representatives will be attending a chamber meeting to discuss future happenings on the waterway and potential for partnerships moving forward.
Got something to say?